4th Annual Sfumato Cardboard Boat Regatta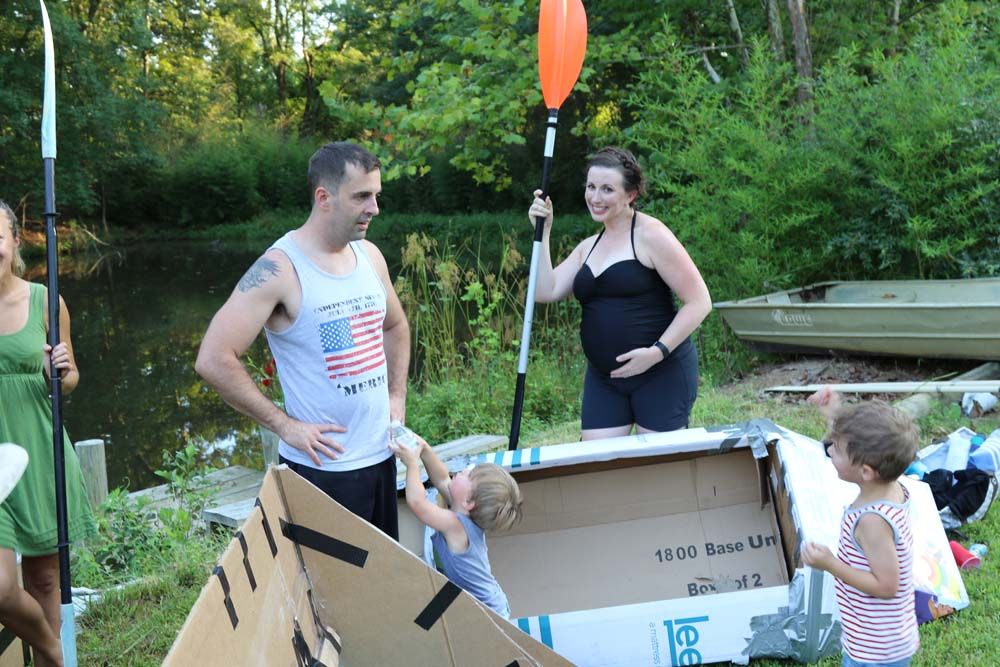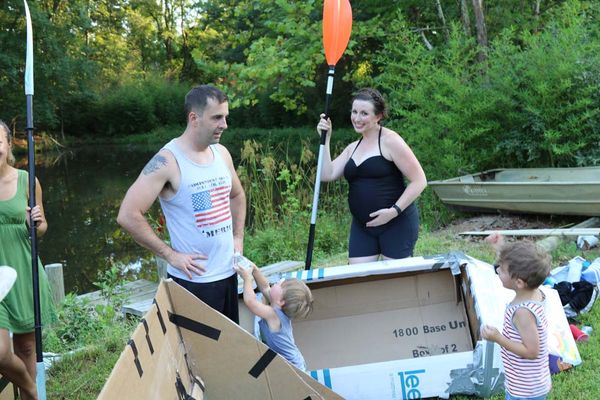 Spoiler alert: no one sank this year!
I was actually disappointed.
When we bought this homestead the summer of 2013, one of the attractions/selling points was the large - 1 acre - pond at the Southern tip of our property. Local boys even knock on our door to go fishing each summer - one kid once caught a 14" bass!
The pond inspired me.
"John, we should host an annual cardboard boat regatta and BBQ!"
John: "Ok...?"
And so we did --- just six weeks after moving in. It doubled as our housewarming! That first year, we only had two boats: mine and my dear friend Sean's. My entire strategy rested on using the largest, most impenetrable box I could find - the box for our large screen television. Sean, however, built a model based on specific cardboard boat schematics in a book and then built full scale. Ergo he circumnavigated the pond 3x while I sank immediately.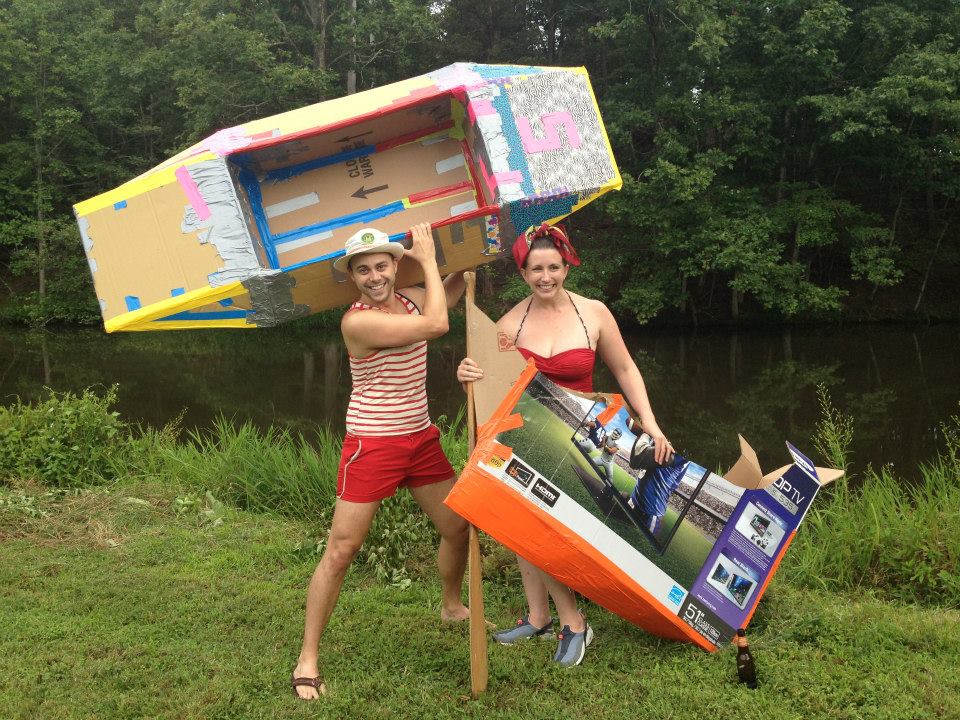 Lest you think I spun this idea out of thin air, I have fond memories of attending a cardboard boat regatta at River Legacy Park in Arlington, Texas.
I'm slightly saddened to see that they no longer see fit to hold it in the pond in the park but at the local chlorinated water amusement park, but it still benefits the outdoor park financially so I guess I shouldn't fuss.
Last year, we had five boats - two of which sank (mine included). This year we had three very competitive boats.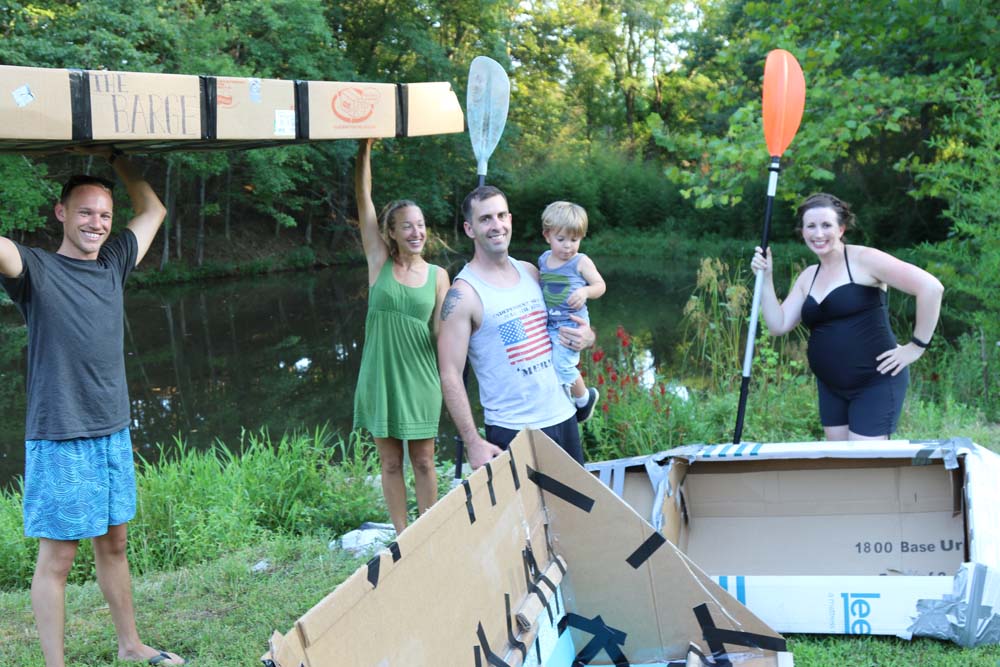 I went first - we do timed trials - and made it across and back in just 90 seconds!
Since that was the winning time last year, I was pretty stoked.
Then, last year's reining champion competed in a larger version of his design from last year. He stayed drier than last year but he went slower much to his chagrin.
Finally, our goat-sharing friend Elizabeth and her friend Aaron put their "Barge" into the water and claimed they would BOTH ride/paddle.
I was dubious.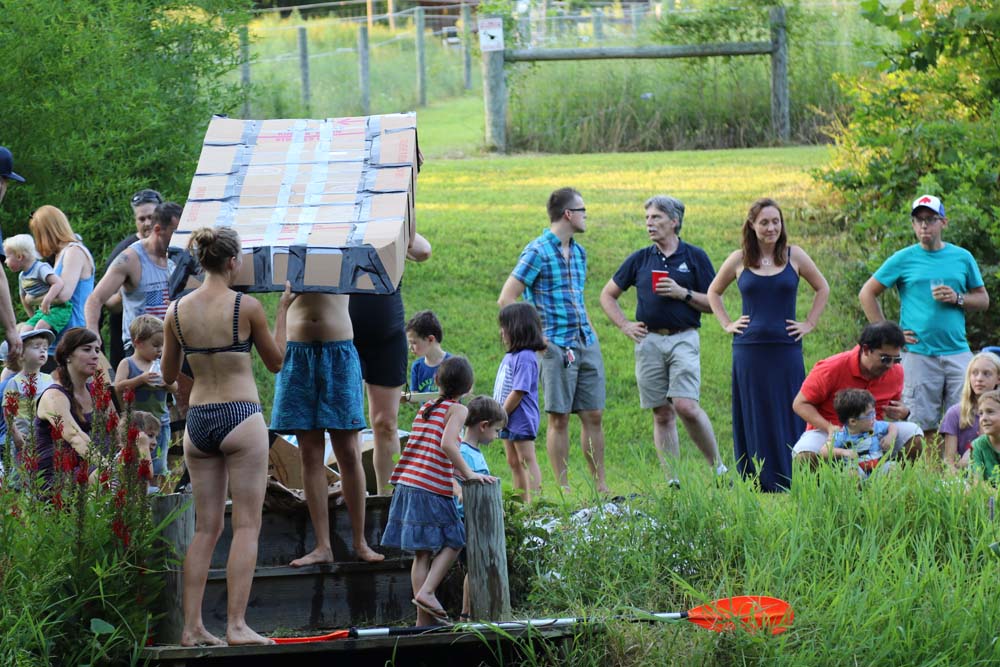 Not only did they float with both of them on the barge, they flew across the pond and back in 45 seconds with both of them paddling.
Amazing!
It was a fun evening filled with good food and friends. We are blessed to have lots of our DC friends drive down for the event each year and even a good childhood friend and her boyfriend came in from Cleveland this year.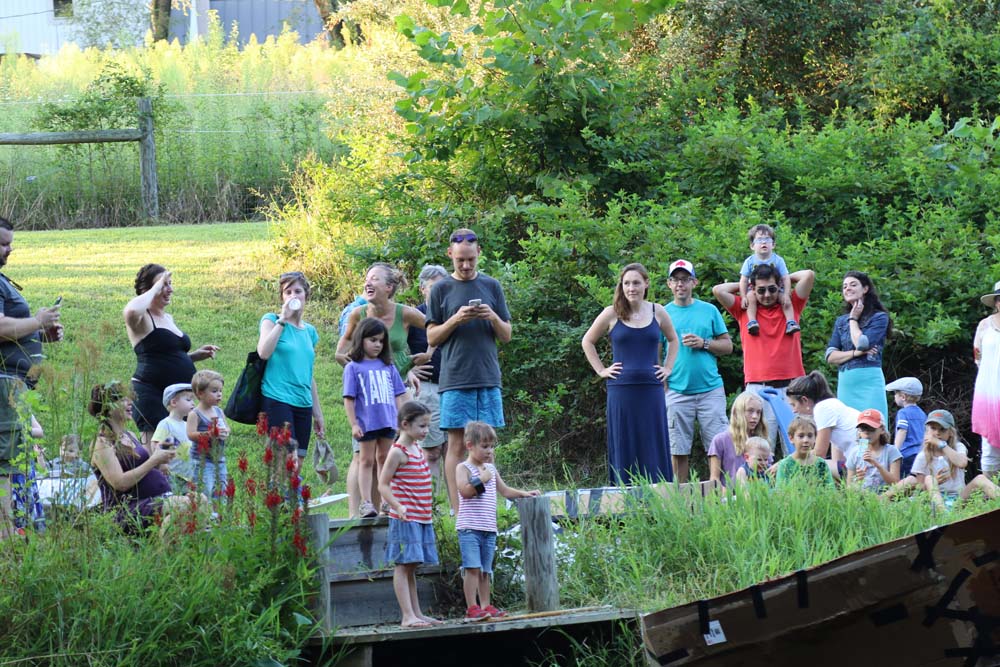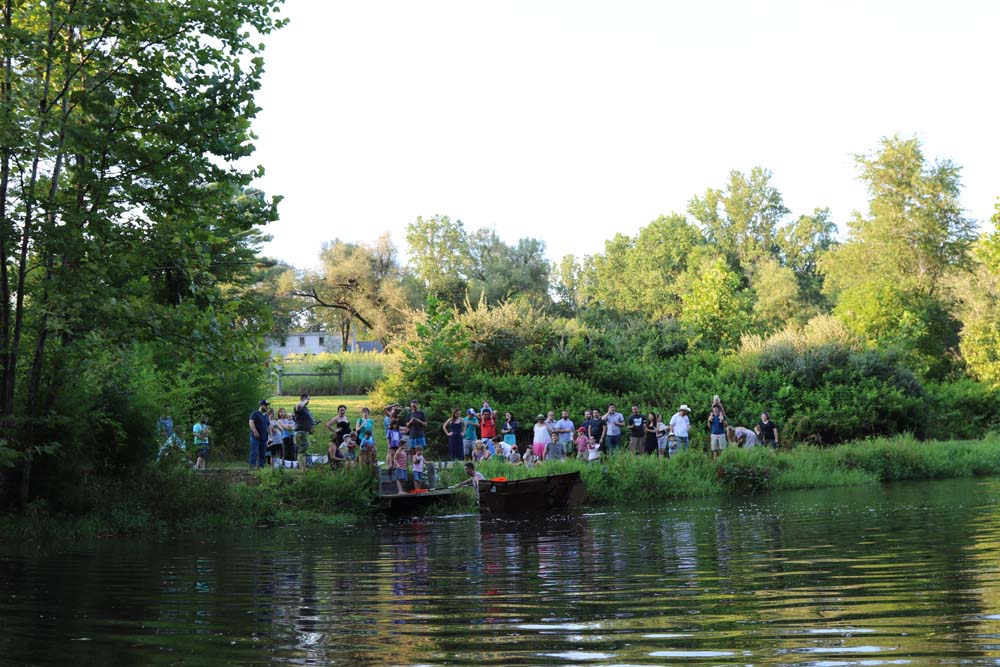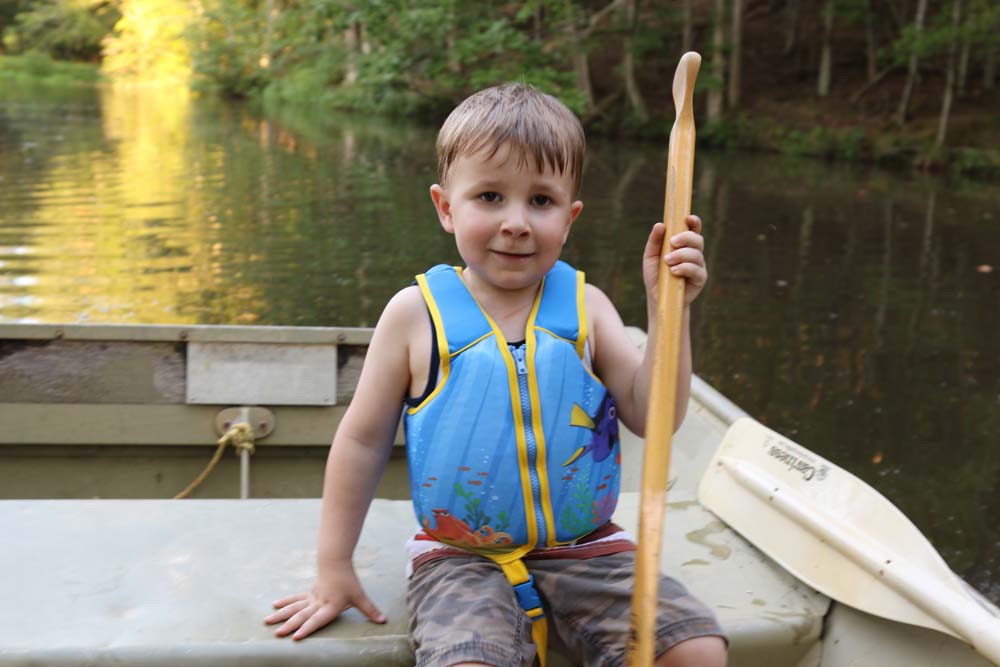 Quincy "rowed" out with John in the our jon boat to get the photos and film of the race. LOVE this picture of him! Can't wait for him and his brother to be old enough to build and man their own boats!
This annual party is our attempt to build community and create memories with friends new and old. We are so grateful to everyone who came out!
I also dig the excuse to decorate cheaply on theme with cardboard, twine, duct tape, hay bales, and the lights we used at our wedding!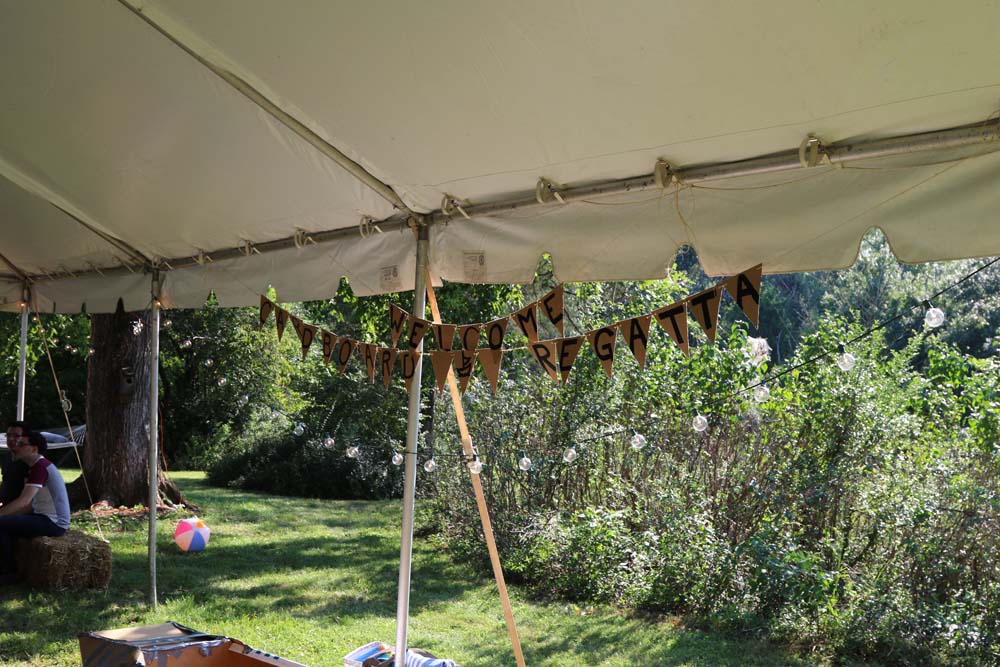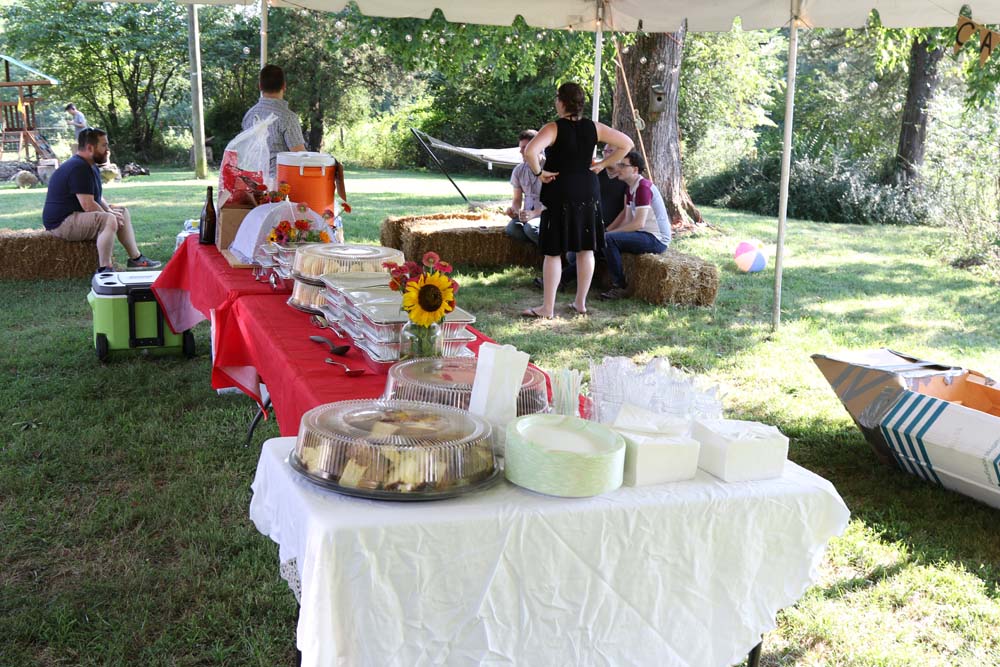 The first two years we grilled burgers and potlucked everything else, but with 50+ people we started catering from Gordonsville BBQ Exchange last year. We used them again this year and our friends David and Bobbie provided their own crafted hard cider.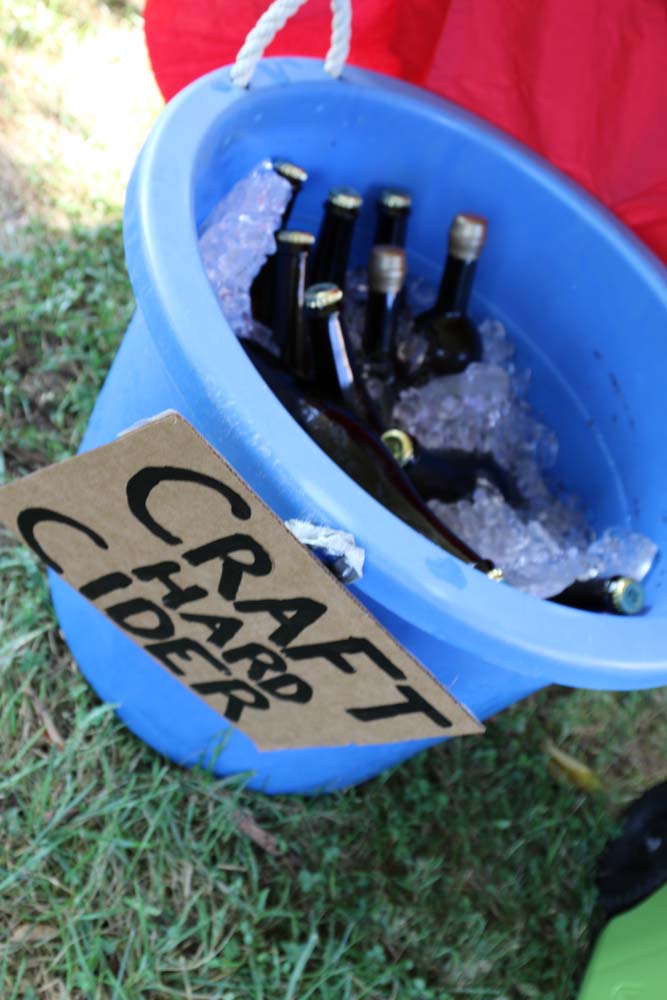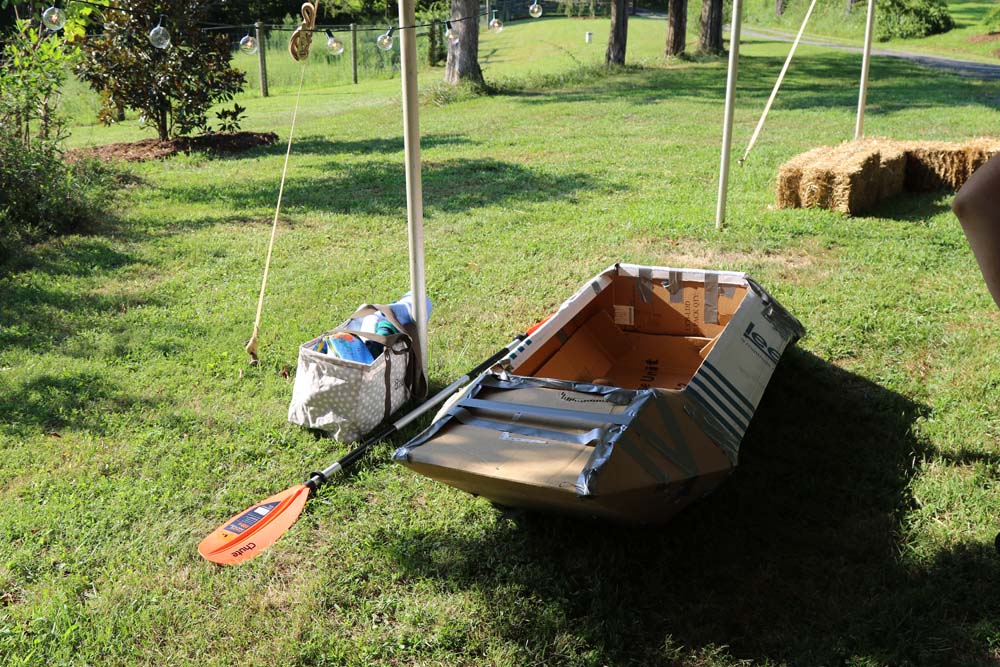 So much duct tape!